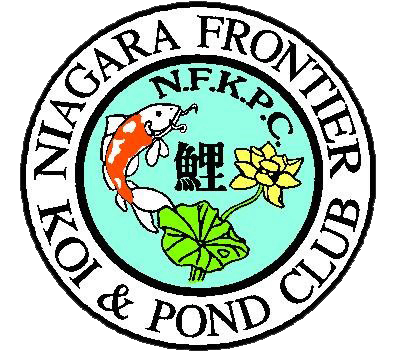 NFKPC is a not for profit, hobbyist organization whose members share a common interest in koi (Japanese colored carp), goldfish, water gardens, backyard ponds and aquatic life. All aspects of the hobby from selecting, breeding, feeding and care of fish, as well as aquatic plant information.
Our club meets the 2nd Friday of month @ 7pm  in a very friendly atmosphere at the Zion United Church of Christ, 15 Koenig Cir in Tonawanda, New York.   Need directions? Click here.  You do not have to be a member to attend, we ask that you consider joining the club on your third visit. Family membership is $25 for a year.
Monthly meetings provide a variety of activities, featured speakers, raffles, auctions,  refreshments as well as an opportunity to meet other enthusiasts.  At our monthly meetings, guest speakers frequently share information pertinent to our hobby through lectures, slide shows, and demonstrations, followed by question and answer periods. Annual pond tours, koi show, spring mega-auction, summer picnic and holiday party our club has it all!
Members have access to an extensive library of periodicals, books, videos, and, most importantly, people who possess incredibly helpful information. There are currently about 77 members, Buffalo and surrounding counties.
The Niagara Frontier Koi & Pond Club was created in the mid 1980s when several koi lovers got together and decided to combine their knowledge and experiences and encourage other koi and pond lovers to join them.
As in any club, our members' ponds encompass a wide variety of styles, filtration and grades of fish and aquatic life. From bucket water gardens to 15,000 ponds, our members have a wide range interests.  We are a laid-back group that enjoys each other company and would enjoy having you join us!
NFKPC Officers
President-Nancy Wojnowski
Treasurer-Maryann Baumgart email
Secretary-Open
Board of Directors
Committees & Contributors
Newsletter – Ann Marshal email
Greg Young Koi Health Advisor